Trust us to keep your data and your future safe.
The best way to wipe a large number of hard drives and magnetic storage media at once. Magnetic field generation of the highest quality is used to totally wipe the contents of magnetic media in an instant. Data can be erased from perpendicular magnetic recording hard drives on all models.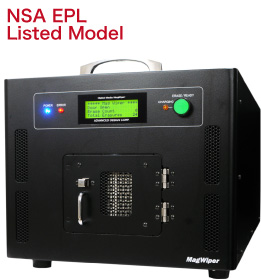 Leading performance NSA listed Degaussers Evaluated Product List (DEPL)
Industry-Focused Products!
MagWiper MW-1B (NSA Listed Model)
Lightest, smallest, and fastest among world-class NSA-approved electromagnetic models.
MagWiper Hybrid MW-25000X
Erases magnetic data from HDDs used in servers or RAIDs with the mounting bracket in place.
MagWiper All-In-One MW-30000X
Simultaneously erases magnetic data from B4/A4 notebook PCs and multiple HDDs.
MagWiper Standard MW-15000X
Compact and light weight. Provides speedy operation with a 17-second quick charge.
Need Help With Easier Industrial Solutions? We Are Experts!